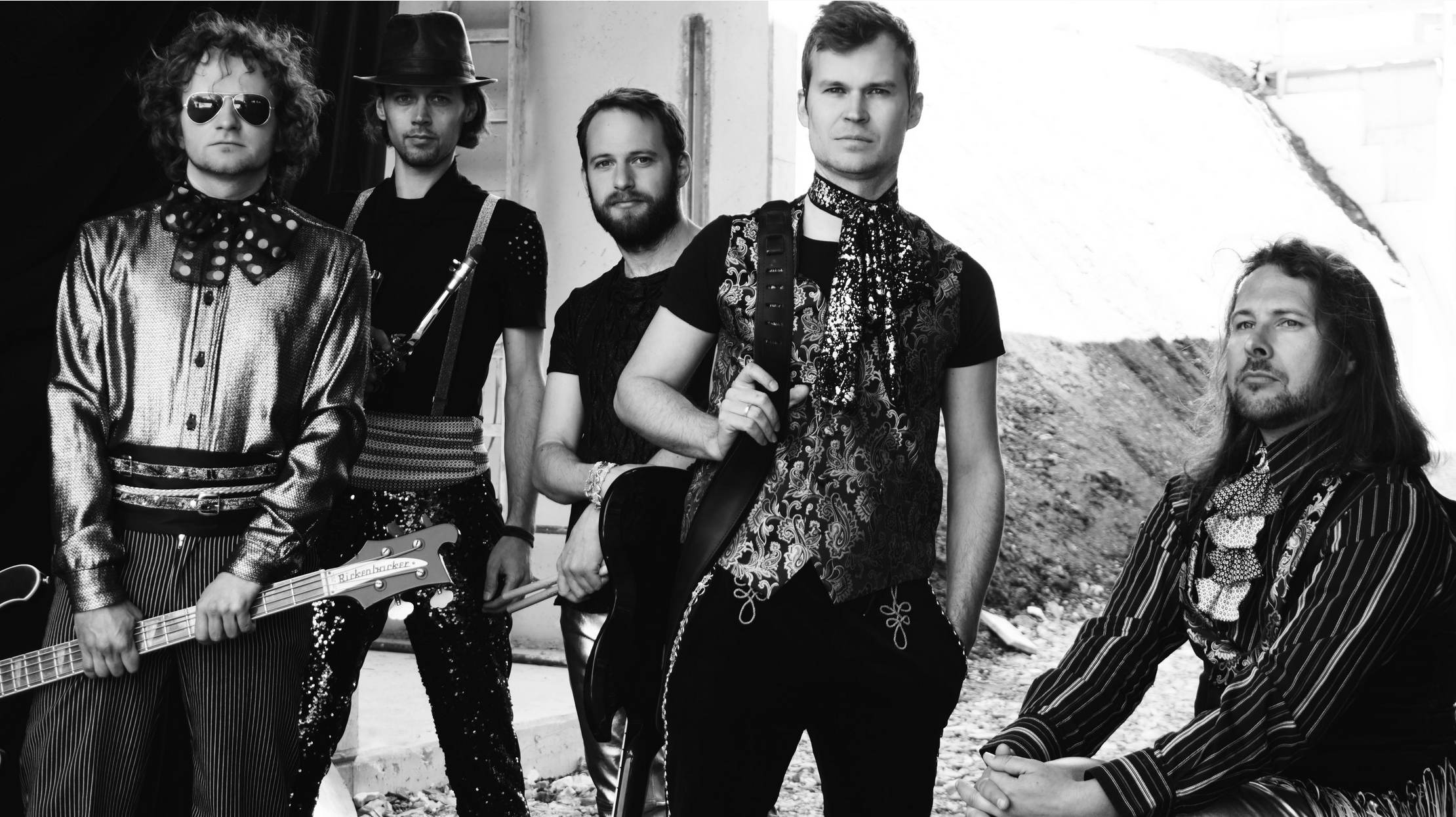 The Austrian band Blank Manuskript seems to be a musical chamber of wonder – internationally successful with uncompromisingly bizarre rock music, the ensemble gained a unique reputation.
Their music is characterized by its sophisticated symphonic arrangements as well as extensive psychedelic improvisations, thus rocking our everyday listening habits. Blank Manuskript creates music paired with mystical-vivid lyrics to transfer its audience into flamboyant musical spheres that have a unique effect on the listeners.
Socio-critical escapism unites with creative excellence, creating contemporary programmatic rock music for insiders and seekers, far beyond the inhuman banality of the media-machine.
Jakob Aistleitner – Saxophone, Flute, Electric Guitar, Glockenspiel, Percussion, Vocals
Peter Baxrainer – Electric Guitar, Accoustic Guitar, Percussion, Vocals
Jakob Sigl – Drums, Percussion, Viola, Tape, Vocals
Dominik Wallner – Piano, Electric Piano, Organ, Synthesizer, Vocals
Alfons Wohlmuth – Electric Bass, Flute, Bottles, Vocals
Stage Design & Costume Design by Lena Kalt & Linda Hofmann
Album Artworks by Identity Lab

 Saturday, 30th of October 2022
Aera Vienna AT 
Thursday, 20th of January 2022
Jubez Karlsruhe DE   
TICKETS  
Friday, 21st of January 2022
Beatpol Dresden DE   
Saturday, 22nd of January 2022
Kreativfabrik Wiesbaden DE 
Sunday, 23rd of January 2022
Immerhin Würzburg DE   
Monday, 24th of January 2022
Kofferfabrik Fürth DE   
Wednesday, 26th of January 2022
Sudhaus Tübingen DE 
TICKETS   
Thursday, 27th of January 2022
Sonic Ballroom Köln DE   
Friday, 18th of February 2022
Il Giardino, Lugagnano IT   
Friday, 18th of March 2022
ARGEkultur Salzburg AT   
Thursday, 24th of March 2022
Meisenfrei Bremen DE    
Friday, 25th of March 2022
tba. 
Saturday, 26th of March 2022
Speicher Husum DE    
Wednesday, 20th of April 2022
The Musician Leicester UK    
Thursday, 21st of April 2022
Fiddler's Elbow London UK    
Friday, 22nd of April 2022
Music at the Northcourt Oxford UK   
Saturday, 23rd of April 2022
World Unlimited Newton Abbot UK  
Sunday, 24th of April 2022
1865 Southampton UK   
Friday, 21st of October 2022
Scala Ludwigsburg DE   
Saturday, 22nd of October 2022
LCB Wuppertal DE